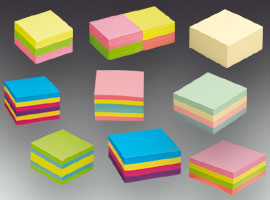 Sticky note cubes + rainbow packs


Click on picture to enlarge!

The popular sticky note format that provides a convenient stack of notes, always at hand in a range of bright and noticeable colours.
What's more, with a selection of shapes and printed designs, there is even more choice on offer to ensure that these notes really will get noticed!

Mini Cubes / Info Minis

An even handier size of note, one that will easily fit into the handbag or carrying case and will always be on hand.
What's more the bright colours, colourful graphics and distinctive shapes make them both attractive and eye-catching.
Rainbow packs, 12 pads
Size
in mm
(sheets)

Colour

Order
code

75 x 75
(12 x 80)

pink (brilliant),
yellow (brilliant),
green (brilliant),
orange (brilliant)

5-654-21
Rainbow packs, 6 pads
Size
in mm
(sheets)

Colour

Order
code

75 x 75
(6 x 80)

yellow (brilliant),
green (brilliant),
pink (brilliant)

5-854-21

75 x 75
(6 x 80)

blue (ultra),
yellow (ultra),
pink (ultra),
violet (ultra)

5-654-44-pk6-a

75 x 75
(6 x 100)

green (brilliant),
blue (ultra),
yellow (brilliant)

5-654-23-pk6-c

75 x 75
(6 x 100)

pink (brilliant),
yellow (brilliant),
blue (ultra)

5-654-23-pk6-a
Cubes
Size
in mm
(sheets)

Colour

Order
code

75 x 75
(400)

yellow

5-820-01

75 x 75
(400)

green (pastel),
yellow (pastel),
pink (pastel),
blue (pastel)

5-820-98

75 x 75
(320)

blue (ultra),
yellow (ultra),
pink (ultra),
violet (ultra)

5-654-43

75 x 75
(320)

pink (brilliant),
yellow (brilliant),
green (brilliant),
orange (brilliant)

5-654-39
| print |