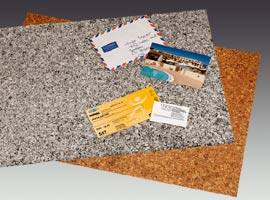 Infoboards & flip charts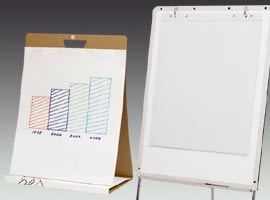 Click on picture to enlarge!

The pin board without pins that holds photographs, postcards and messages firmly in place, courtesy of the same reliable adhesive that is used throughout the sticky note range.
Available in a choice of colours and formats, the boards come complete with self-adhesive wall fixings.

Flip-Charts

Stick your presentation on the wall using the repositionable adhesive on each sheet. Save time by no need for tacks or tape!
Our self-adhesive and removable flip-chart pads are available in two practical versions: Easel pads fit standard flip chart easels. Pop-up flip charts are ideal fortable top presentations or break-out meetings.
Boards
Design

Size
in mm

Order
code

Light cork

600 x 400

5-940-54

Brown cork

600 x 400

5-940-55
Neutral flip charts
Design

Size
in mm
(sheets)

Order
code

Easel Pad

795 x 635
(30)

5-943-08

Table Top

500 x 600
(20)

5-941-08-neutral
| print |