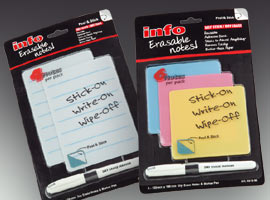 Whiteboards


Click on picture to enlarge!

"Erasable Notes" -
mini whiteboards with pen!
Have you ever thought about rewriting on a Sticky Note? With the high quality dry-erase surface of our self-adhesive Whiteboards the new "Erasable Notes" offer a far superior alternative to paper notes. To make your own list simply write on and wipe of the ink or apply and reposition easily! No more hunting for a new piece of paper...
Erasable notes
Size
in mm
(sheets)

Colour

Order
code

100 x 100
(6)

2 x blue,
2 x pink,
2 x yellow

5-911-98
Erasable notes, ruled
Size
in mm
(sheets)

Colour

Order
code

100 x 150
(4)

white

5-911-06
| print |