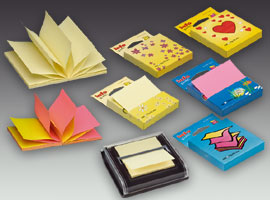 Z-notes


Click on picture to enlarge!

Handy "Info Z-Notes" with decorative hang-sell dispenser!
Look and see "Info Z-Notes" with two changing brilliant colours in classic size! They offer a handy hang-sell dispenser with decorative pattern!

Handy Z-Notes with acrylic desktop dispenser!
These accordion-style notes easily dispense one at a time with one hand! Sheets are safely covered by dispenser. Throw into your bag without any doubts of having dog-ears! Also suitable for promotional purposes with screen printing or pad printing on dispenser.
Funny z-notes-dispenser
Size: 75 x 75 mm
Sheets: 100
Design

Colour

Order
code

Violet flowers

yellow

5-644-01di-2-a

White flowers

yellow

5-644-01di-1-a

Hearts

yellow / pink

5-644-39di-3-a

Z-pad

yellow / pink

5-644-39di-1-a

Fishes

yellow / pink

5-644-39di-2-a

Design-mix
4 of each funny dispenser
4 x 5 dispenser

-

5-644-39dimix-a
Z-notes
Size
in mm
(sheets)

Colour

Order
code

75 x 75
(100)

yellow

5-644-01

125 x 75
(100)

yellow

5-645-01

75 x 75
(100)

yellow / pink

5-644-39-pk1-a

75 x 75
(6 x 100)

2 x yellow,
2 x green,
2 x pink

5-644-22
Acrylic z-notes dispenser + pad
Size
in mm
(sheets)

Colour

Order
code

75 x 75
(50)

yellow

5-643-01
| print |